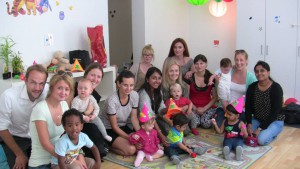 Finding an appropriate childcare is a difficult task for every parent with small child– to choose between "free-play" concept and rigid adult-driven curriculum, between "small groups" and "large  facilities"  and  between  educated  early  childhood  teachers  and  part-time  carers.
It becomes even more difficult for expat parents in a foreign land– to find a facility where you are adequately  involved,  where  both  you and your child  feel  comfortable  and  language  of interaction is not a barrier.
At Tinytots International Daycare & Preschool, we understand your concerns. We appreciate your need for a friendly and comforting atmosphere- safe and secure for your child, an international environment where cultural sensitivity is important and a place where creativity is fostered while a structure is maintained.
We work together with you and this is the reason why so many families choose us :
Our facilities are conveniently located
A truly international environment
Small group sizes resulting more personalised care
A  highly  recognised  child-centered  curriculum  and  methodology
Qualified and trained educators
Continuous  involvement  of  parents  through  daily  structured  feedback,  parent-teacher meeting and socialisation
Affordable child care, reasonable in its approach
Welcome to Tinytots family- a perfect second home for your little one.