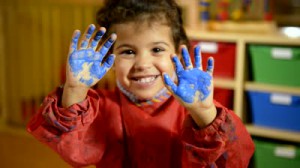 At Tinytots International Daycare & Preschool our philosophy is to provide the best possible environment for the care, education, and development of your child/children. Our philosophy is expressed in a program
which is designed to be different, flexible, and encourage active hands-on learning because all children are unique with individual skills and interests
which provides freedom and opportunity to develop physical, cognitive, and social skills at a child's own pace.
Our Vision
Our vision is to provide a secure, adoring, charming, exciting, respectful and fostering environment for each child in which they get the fullest opportunity to grow and develop. We work all the time to develop the feeling like a home away from home for the children. We want to develop Tinytots to a place where parents can feel confident that their children are receiving the very best care and education
Our Belief
We believe that each child has its own individuality and unique qualities, and our mission is to nurture it all the time. We follow a research based and child focused early childhood curriculum called Highscope, which uses a carefully designed process — called "active participatory learning" — to achieve powerful, positive outcomes. We serve children aged six months to six years, and from both international and local community.