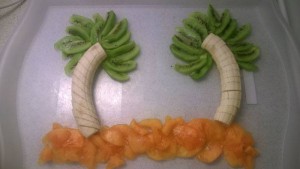 We believe that a healthy diet is essential for a child's complete growth. Therefore, throughout the day we strive to provide a healthy and nutritious meal which gives your child the best possible chance to grow and flourish.
Food is provided three times a day:
1) Breakfast: In the morning children are served varieties of fresh fruits with some bread, cheese and butter.
 2) Lunch: For lunch hot meal is provided 3 days a week and sandwiches 2 days a week. The entire meal is prepared by our nutritionist and cook from scratch, including the different spreads/salads for the sandwiches.
3) Afternoon snack: In the afternoon children are again served with varieties of fresh fruits with some bread, cheese and butter.
Milk and water is provided with each meal and we try to provide as much as possible organic and fresh food. It is essential that food is interesting for the children- so frequent change of menu and creative serving are essential part of our meal program.
We also strictly follow the special food requirements (for eg. no beef or no pork) and allergies (if any) for each child. Forms to declare special food requirements and allergies are provided at the time of admission.
Every week we have cooking/ baking activities with the children which help them learn different practical life skills like cutting, peeling, rolling, kneading.
In both our preschools parents' have the option of opting out of a healthy lunch meal and opt for a parent-arranged lunch arrangement. The decision is taken by a simple majority of parents who have children in the Private Instituion. This option of opting out of a lunch meal is provided to the parents every 2nd year.